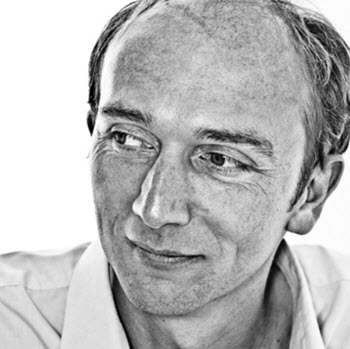 Hugh Turvey (b. 1971) is a British artist chiefly known for his work with x-ray technology. Sometimes, the x-ray images are combined with traditional photography and/or CGI.
He is a long-term Artist In Residence at the British Institute of Radiology (BIR), where he has carried out travelling and patient experience improvement projects, including tour exhibits for UK hospitals. Some of his art has also been shown in hospitals in Germany and the United States.
Turveys art has also been displayed at art galleries and exhibition halls in the United Kingdom as well as abroad, and shown in national and foreign newspapers and magazines. Some of it is now held in public collections, such as the permanent display at Sir Isaac's Loft at the Franklin Institute Science Museum in Philadelphia, USA.
Turvey is one of the artists in London Contemporary Art's (LCA) rooster.
Background
Hugh Robert Turvey was born in Chippenham, Wiltshire on 5 June 1971. Wiltshire is a county in South West England. Turvey was the first child born to Rodney and Patricia Turvey.
Education
Swindon Art College 1989-1990
Royal Berkshire Collage of Art and Design 1990-1992
Photography at Blackpool and The Fylde College 1992-1994
Early inspiration
Russian Constructivists, such as the photographer Alexander Rodchenko, was an essential source of inspiration for the young Turvey.
Another photographer that had a big impact on Turvey early on was Professor Harold Edgerton at the MIT, who used the stroboscope to trailblaze new ways of taking photographs.
Career
Apprenticeship and early x-ray art exploration
Early in his career, Turvey worked as an apprentice to Gered Mankowitz, an English music industry photographer. It was during this period that Turvey began experimenting with x-ray and shadow photography, after being given the commission to create a "revealing" image for an album cover. To learn more, he sought the advice from the head of radiology at the Royal Free Hospital in London, England.
Eventually, Turvey started working on creating x-ray art where the object's shadows were both interior and exterior. He calls these images Xograms and differentiates them from photograms by the frequency of the light used to expose the 'paper'.
The Science Photo Library and LIFE
The Science Photo Library encouraged Turvey to produce a series of coloured x-rays of everyday objects. In 1999, the series was published in the Observer's LIFE magazine.
TV Commercials for Credit Suisse
In 1999, the Swiss bank Credit Suisse commissioned Turvey to produce six motion x-ray TV commercials for the European market. The result received a lot of acclaim and was awarded at the 1999 ITVA Festival in Köln, Germany.
European Day in Kiev, Ukraine
In 2005, Turvey and Artemi Kyriacou represented the United Kingdom at the European Day in the Independence Square of Kiev. They were invited by the British Council after winning Photography Awards at the Novartis/Daily Telegraph Visions of Science earlier that year.
2009 Exhibition at the Gallery@Oxo
Turvey's x-perimentalist exhibition was shown at the Gallery@Oxo, Southbank, London, in 2009.
Yeovil District Hospital
After the exhibition at Gallery@Oxo, Turvey carried out a six-month residency at Yeovil District Hospital, where he worked on inr-i, a public engagement project sponsored by the biomedical research charity Wellcome Trust.
The resulting artwork wasn't just shown at Yeovil; Turvey curated it into a touring exhibition that was sent out traveling between hospitals throughout the United Kingdom.
BIR
In 2009, Turvey was appointed permanent Artist In Residence at the British Institute of Radiology (BIR).
One of his first projects as Artist In Residence was a collaboration with the Department of Specialist Imaging at University College Hospital (UCH), a teaching hospital in London. The result of this collaboration was a series of artwork derived from multi-sequence MRI scans of the prostate.
Et soudain, tout le monde me manque
Turvey produced x-ray imagery for the 2011 French family drama "Et soudain, tout le monde me manque", a film directed by Jennifer Devoldère.
In addition to Turvey's x-ray imagery, Turvey himself can actually be seen in a small cameo in the final scene, where he is one of several visitors at an art gallery. The scene was shot as Galerie Anne de Villepoix in Paris.
App
In November 2011, Turvey released the app "X is for X-ray" for iPad through Touch Press.
Maslow Hotel in Johannesburg
In 2012, Turvey collaborated with architects and interior designers for the refurbishment of the Maslow Hotel in Johannesburg, South Africa. His Flora series of Xograms is a leitmotif that can be seen throughout the hotel building.
2014 Exhibition at the Gallery@Oxo
In February 2014, Turvey's solo exhibition X-POSÉ: Material and Surface was shown at Gallery@Oxo.
2014 Exhibition at Artopia Gallery
In March 2014, the X-POSÉ: Material and Surface exhibition was shown at Artopia Gallery in St. Katharine Docks, London.
2014 Edinburgh Science Festival
As a part of his role with the BIR, Turvey spoke at the 2014 Edinburgh Science Festival in April, and also created a site-specific video installation for the festival.
Royal Photographic Society
In September 2014, Turvey was awarded an honorary fellowship by the Royal Photographic Society.
Gustoimages, Heston Blumenthal and Waitrose
Gustomimages Ltd is a company created by Turvey and Kyriacou. One example of a project carried out by Gustimages was the packaging for chef Heston Blumenthal's product range "Heston from Waitrose".