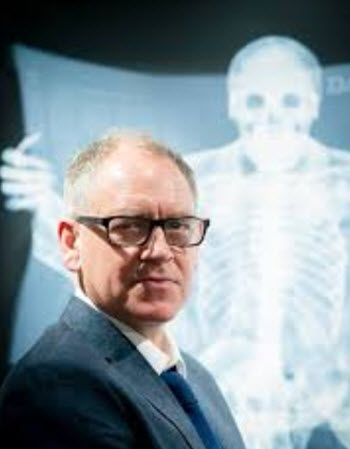 Nick Veasey is a British photographer and artist chiefly known for artworks created from x-ray imaging. Unlike many other x-ray artists, he doesn't primarily work with x-ray images created during medical examinations. Instead, he is known for his x-ray imagery of everyday objects, such as shoes and packaging. Visit his official website.
His art has been included in many international advertising campaigns and used for products and packaging around the world, from Lenor/Downy's fabric conditioner to the livery for Adobe's Creative Suite. One of his most famous works is the life-size x-ray image of a Boeing 777 jet.
One of this first significant exhibitions took place at Maddox Fine Arts in Mayfair, London in 2009. Since then, exhibitions have been held in Europe, Asia and North America.
Examples of awards received by Veasey:
IPA Lucie
Applied Arts
PX3
D&DA awards
AOP
Graphis
Communication Arts Award
Some of Veasey's artworks are collaborations with digital artists, especially those who rely heavily on photo-manipulations in Photoshop.
Background
Nick Veasey was born in London, England in 1962.
Early in his career, he worked in the advertising and design industries.
While still working in the advertising and design fields, Veasey was asked to x-ray a cola can for a television show. In addition to doing the x-ray image of the can, he also took the opportunity to x-ray the shoes he was wearing that day. He later showed the finished image to an art director, and got a very positive response.
Books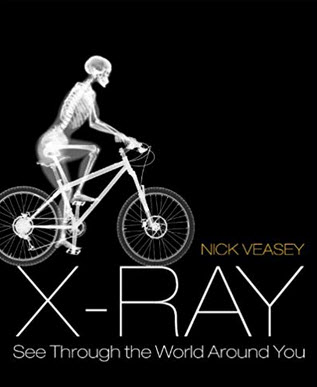 X-ray: See Through The World Around You
This hardback book with images by Veasey was published by Carlton/Goodman in the United Kingdom and Penguin in North America. The book contains images created over a 13-year period and is divided into four chapters: Nature, Fashion, Human/Animal, and Objects.
X-Treme X-ray in association with The Science Museum
Built around Veasey's art, and packed with fascinating facts about x-rays, this is a children's book published in association with The Science Museum.
A Decade in X-ray
This miniature book is no larger than a standard matchbox and is protected by a special miniature briefcase. It's a collector's piece that has won several design awards.
More information
In 2008, Veasey estimated that he had already x-rayed over 4,000 objects, including flowers, steel elevator cogs, alarm clocks, tractors, and bodies.
Veasey uses industrial x-ray machines, and his equipment includes a Russian-made tabletop particle turbocharger. For one of his projects, he borrowed a huge cargo x-ray scanner normally used to scan trucks at the USA-Mexican border.
His studio has 35-inch-thick concrete walls lined with lead.
While a typical medical x-ray only subjects the patient to a very short burst of radiation, Veasey uses techniques that require much more time. For some objects, he bombards the item with radiation for 10 minutes or more to get the images crisp enough. This is not considered safe for living creatures, so to capture the human form Veasey tend to work with skeletons in rubber suits or donated dead bodies. Working with a donated body is time sensitive since the body will be difficult to pose once rigour mortis sets in.
Photoshop is used to stitch together several x-ray images to produce a larger one. Standard x-ray film doesn't come in any size larger than 14 inches wide.Photoshop is also used to add colour to the black-and-white images.